13 Latin
13LAT
Course Description
Teacher in Charge: Ms P. Wright
Recommended Prior Learning
Year 12 Latin, Year 11 Latin in consultation with Ms Wright.
---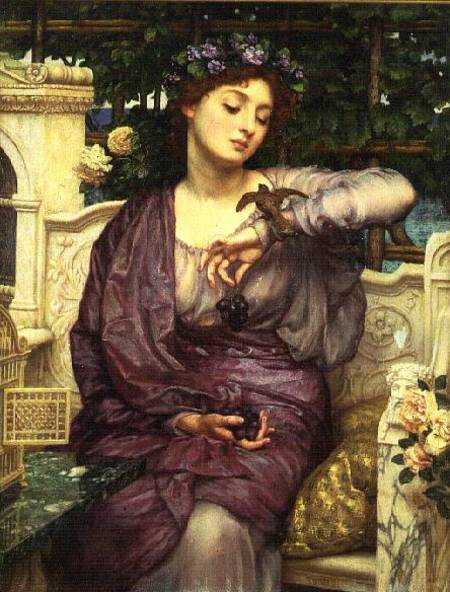 ---
This year you will continue to consolidate and extend your knowledge of the Latin language while you also develop your appreciation of authentic Latin literature.
After completing Year 12 you have already studied the big grammatical concepts so you can concentrate more on reading and analysing Latin texts and improving your translation and comprehension skills. You will deepen your understanding of Roman poetry and of Roman perspectives on their world.
In 2023 you will study 2 substantial literary texts. The first texts we will read are the love poems written by the poet Catullus about his mistress Lesbia (above, with her pet sparrow!). Your first internal assessment about Roman attitudes will be based on this poetry. Then we will turn to Book 6 of the Aeneid, an epic poem by the most revered of the Roman poets, Virgil. In this Book the hero Aeneas, guided by the Sibyl, descends to the Underworld where the dead reside and where he meets several characters from his past and is shown the glorious future in store for Rome.
---
Learning Areas:
Assessment Policy & Procedures
---
Career Pathways
Architect, Historian, Barrister, Author, Journalist, Solicitor, Curator, Librarian, Secondary School Teacher, Tour Guide
Course Costs and Equipment/ Stationery requirements
Highly recommended: $23 Education Perfect subscription (one charge for all languages).
Description
Type
Value
Education Perfect
Voluntary
$20.00
$20.00
---
Pathway Tags
Journalism, Public Relations, Advertising, Marketing, Foreign Affairs, Teaching, Archaeology, Librarianship, Gallery or Museum Curation, Translation
---
Useful Links
Disclaimer
We aim to enable every student to have the course that they prefer, however, some courses have limited places or pre-requisits that may restrict the student's choice.